AAI Tubular Ball Type Rail Type AA500 Stainless Steel Handrails and Guardrails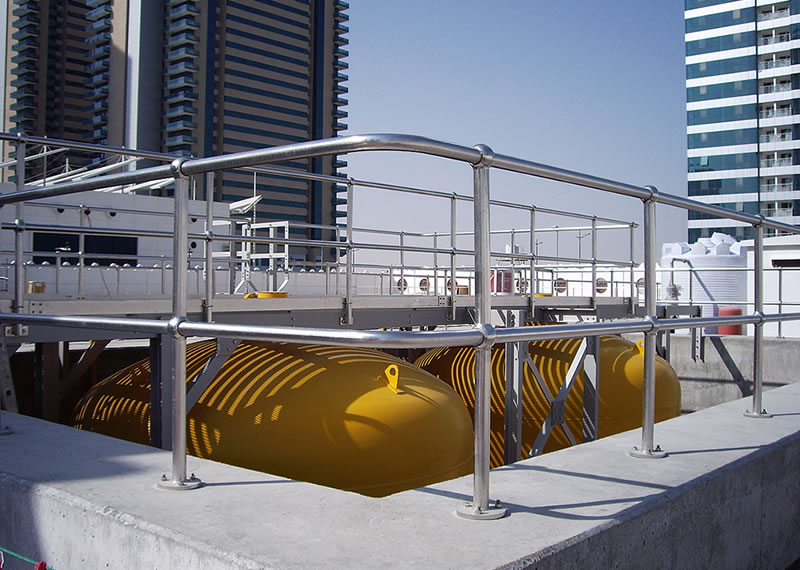 Stainless Steel Handrails - Pumping Station - Qatar
This a stainless steel handrail system and manufactured from grade 316 material. Differing finishes means this is a versatile system which can be used in aggressive / corrosive environments, as well as being used for feature handrails.
All parts are totally pre- fabricated before delivery in accordance with bespoke drawings prepared for every individual contract . Each piece of handrail is marked to facilitate identification, this in conjunction with the drawings provided, ensure quick trouble free assembly.
Generally handrails should be not less than two rails in the same plane, however on companion way ladders and on stairs bounded by a wall a single handrail should be fitted. Handrails should be continuous and to avoid injury or damage, rails should terminate in a returned end. All joints are concealed within the ball via an internal groove type ferrule.
Resistance to loads imposed by the handrails and fixings should be considered when designing the structure that the handrails are intended to be attached to.
Handrail standard make up will vary according to the shank type require for the determined loading / specification. This will affect in turn the ball diameter needed.
Base plates will normally be welded on to the shanks and drilled to received M12/M16 bolts as required. Larger / thicker bases may be required to those shown for heavier duty loading.
Where handrails are provided for attaching to customers equipment or to building structures, adequate consideration must be given to the design of such structures to resist any loads imposed by the handrails and fixings.
The AA401 aluminium handrail system is supplied from heavy duty aluminium posts of 50.8mm dia shank, with 38.1mm o/d top and intermediate handrails. The post is drilled to receive the intermediate rail, whist the top rail is secured via a die cast tee section, all secured via stainless steel grubscrews.
The post is supported on high duty heat treated die cast bases, generally drilled to receive M12 fixings. 150mm high toeplate is supplied as required, secured to the handrail posts. 3 hole bases are available if specified / required.
Finishes:
Self Colour (untreated)
Pickled and passivated
Brushed
Matt
Electro-polished, (following pickle/passivation)
Loadings should be a defined in BS6180:1995, BS EN ISO14122: 2001, BS5395 Part 3:1985 & BS6399 Part 1:1984.
HANDRAIL STANDARD / SPACING GUIDE
Tubular and solid standards.
Max spacing based on a design height of 1100mm, standards complete with a flat base, secured to steelwork. Note where handrail heights exceed 1100mm spacing's should be checked for suitability.
Direct contact with some metals such as Copper or Aluminium, should be avoided. Use of suitable isolation materials will alleviate any problems.