Aluminium Raised Hinged Odour Control Access Hatches - AA414 AAI Marine Grade Aluminium Hinged Access Hatches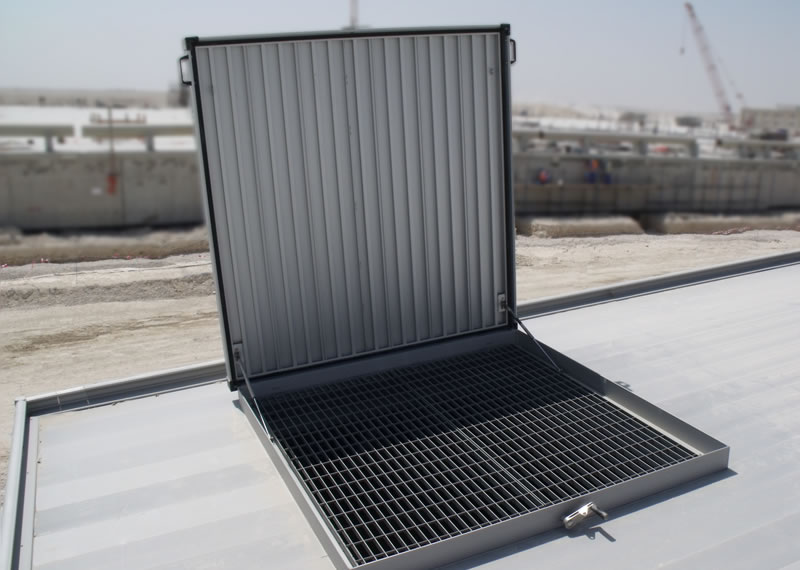 Aluminium Raised Hinged Odour Control Access Hatches
Hinged access hatches type AA414 are constructed from marine grade 6082 to BS EN 573 and BS EN 755 aluminium materials, offering excellent strength and corrosion resistance.
The top cover, (being assembled from AAI's specially extruded perimeter frame and a cover plate available with a ribbed top surface), hinges onto AAI's base frame and is complete with integral rubber seals for odour control. The base frame is seated on a neoprene gasket and secured to the support structure with suitable stainless steel anchors.
This cover is ideal for use on roof slabs and roof walkways and will be made to suit the opening size required. The access hatches are hinged and are supplied with AAI lifting handles / locking lugs, and can also be supplied with gas struts to assist the opening and closing of the access hatches. The access hatches are available upon request with a secondary internal hinged safety grille.
Fitting a padlock to the locking handle will prevent unauthorised access.
These access hatches are provided pre assembled for bolting direct to the concrete or platform opening / support structure.
Access hatches are individually numbered to facilitate easy identification for installation on site, with the assistance of layout drawings provided.
Finish: Anodised AA20.