Mild Steel Open Type Platforms, Walkways and Flooring - Rectangular Pattern Flooring AA710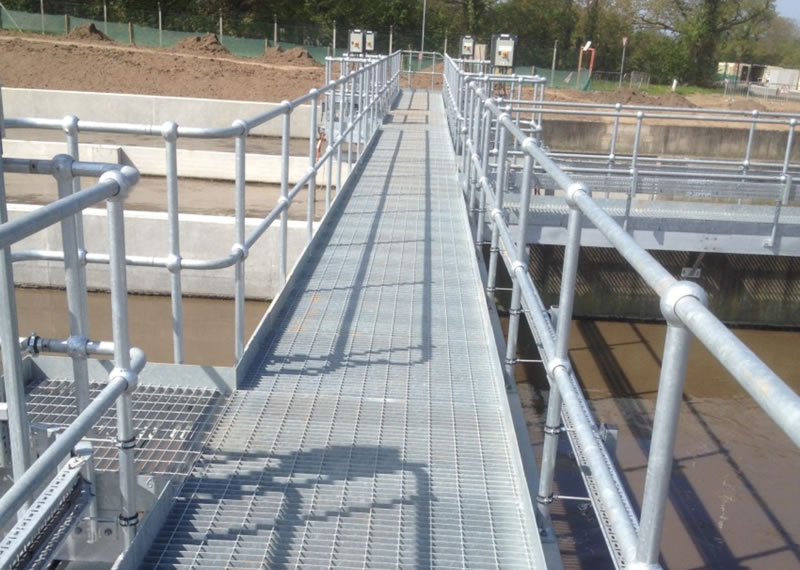 Mild Steel Platforms, Walkways and Flooring
Platforms, Walkways and Flooring type AA710 is open type mild steel flooring, constructed from flat rectangular bar and round cross twist bars, formed as a unit by being pressed together under high pressure, whilst electrically welded at the same time.
The special construction offered by forge welded gratings provide a high resistance to twisting, bending and distortion.
AA710 series flooring is supplied in pre-fabricated panels, completed panels having binding bars welded to the panel ends / sides and cut-outs.
Gratings can be provided with plain, or machine-serrated bearing bars.
Each floor type is supplied with bearing bars either 3 or 5mm thick and from 20mm to 50 deep, to suit differing load / span criteria, as well as authority specification.
Floor panels are individually numbered for easy identification and installation on site, with the assistance of layout drawings provided.
All open type flooring that is to be used as a walkway or platform is required to be of such construction that a 35mm sphere cannot fall through (Cat A). Where machinery / access is directly above where personnel work or congregate, this should be further reduced to prohibit a 20mm sphere, (Cat B), in accordance with BS EN ISO 14122.
Note:
For Cat A - AA710 & 711 flooring should be used
For Cat B - AA712 & 713 flooring should be used
AA710 flooring is generally secured to the support structure via standard clamp type clips, or shot fired stud and top disc / spacer washer.
Panels are supplied galvanised to BS EN ISO1461.