Aluminium Access Ladders, Marine Grade - AAI Type AA420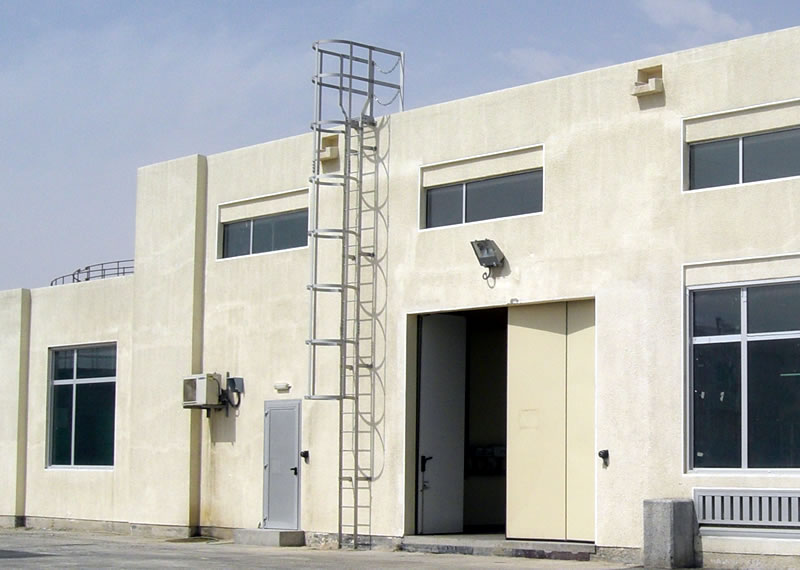 Aluminium Access Ladders, Marine Grade
AA420 Access ladders are designed for access to platforms and structures where use of a stair is not suitable.
Ladders are 380mm min between stringers, complete with rungs at 300 max ctrs.
For the AA420 ladder type, the stringers are opened out to 700mm for a walk-through and is complete with a three rung top step section. For ease of transport / installation, ladders can be spliced. Ladders are secured with stays at generally 2500 ctrs, although this may increase if larger stringer sections are used.
Safety cages or fall arrest systems are an essential requirement for ladders where a user could fall 3m or more or come into contact with dangerous equipment.
Safety cages should start 2400mm from FFL and have hoops in line with the handrail ctrs to the head and 900mm max spacing there-after.
Inclined ladders should be set at 75 ̊ or steeper.
Landings where required should not be less than 840mm square complete with handrails and toe plates to protect open sides.
Material: Aluminium Marine Grade 6082 T6 Stringers condition to BS1474 u.n.o.
Ladders stringers and walk-through: 65 x 13 flat bar minimum, c/w 20mm dia solid serrated rungs. Box section stringers can be offered as an alternative – 89 x 29 c/w 24mm dia tubular ribbed rungs.
Safety Cage, (hoops and straps): 50x8 flat bar.
Ladder stays: Generally flat bar of the same section as the ladder stringers.
Note:
A self closing gate, or safety chains should be provided to lad- ders with walk-through's, to guard against falls.
All fixings are stainless steel gr316. Finish:- Anodised AA20..