Aluminium Large Span Odour Control Covers - Type AA440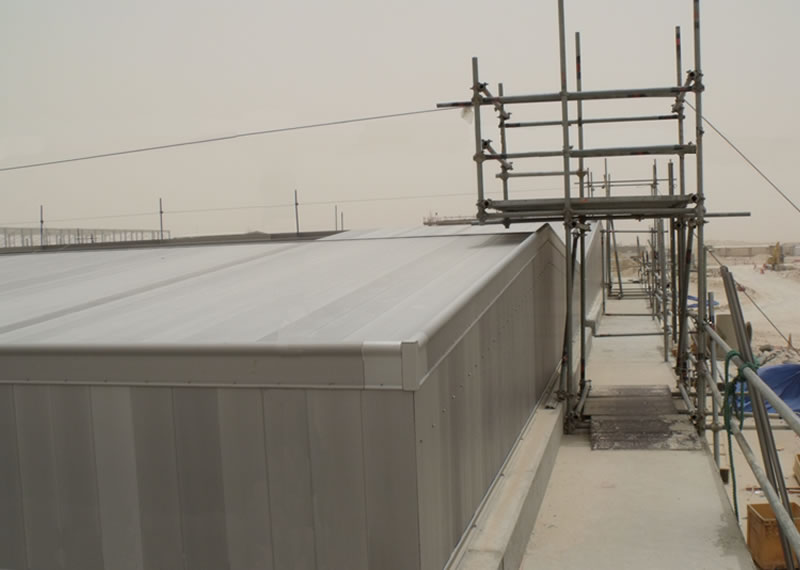 Installing Aluminium Odour Control Cover Roof
With the supply of access and safety products to the Water and Sewage Industry worldwide, AAI prides itself in supplying a highly efficient service and quality end product.
Utilising high grade aluminium materials, AAI offer a wide range of covers to meet each projects individual requirements.
The supply of large span odour control covers is one of the services offered as part of the AAI range, which are designed and manufactured in accordance with the specific structure requirements and specifications.
With a long history in the use of marine grade, structural aluminium, large span trusses are designed and developed to provide large span self supporting trusses / covers, to eliminate the need for intermediate supports and therefore utilise the space below without obtrusion.
The larger span covers are typically designed to a lightweight loading criteria, more for an odour control system, however can be complete with designated walkway area's, either to access viewing points, or for access across the cover itself.
Aluminium's excellent properties allow fewer design constraints. With aluminium's low density and therefore low weight but high strength, malleability, ease of machining and excellent corrosion resistance and conductivity make AAI's aluminium truss system, a much more favourable choice over traditional materials such as steel, concrete and GRP.
With a density one third that of steel, the large span trusses / covers, offer a considerably more lightweight product, which will provide easier installation, lower plant costs and will impose less loading on the structure concerned.
Although aluminium provides its own corrosion resistance via oxidisation, provided with an anodised finish, this enhances the strength of the natural corrosion protection to give a long term sustained resistance to the environment.
In order to maximise the truss strength, with the minimum amount of materials, each truss is designed with full calculations and stress analysis of all members and sections.
Full CAD drawings are provided in line with the design giving layouts, sections, elevations and details for client approval, prior to the manufacturing process.
AAI offer a full installation service using dedicated installation crews. Alternately, In conjunction with our Installation Manual and the assistance of one of our qualified Engineers, we will guide you through the installation processes required to ensure a safe and correct fit of the product on site.