Aluminium Penstock Covers / Surround - AA460 AAI Odour Control Systems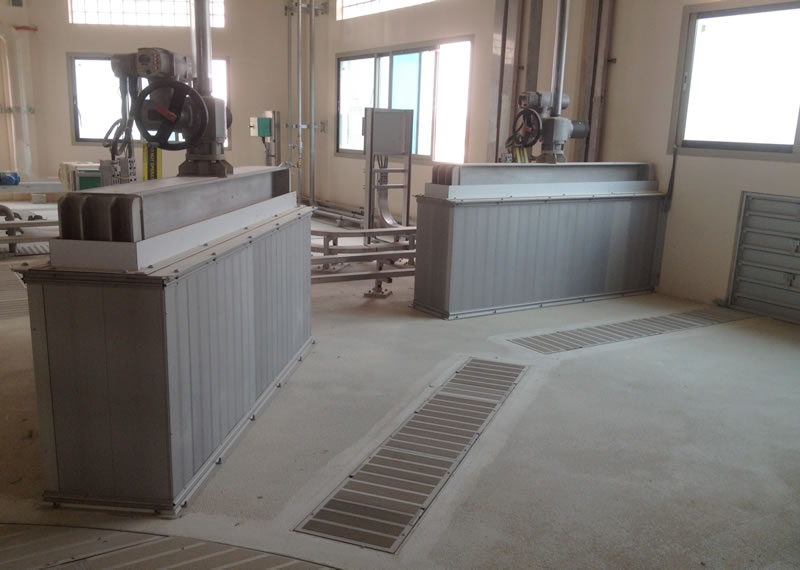 Aluminium Penstock Covers / Surround
AA460 Penstock covers / surrounds are designed for odour containment, in circumstances where the installation of penstocks create substantial openings that allow the omission of resident gasses / odours.
Supplied in kit form, to be built around the penstocks, these covers / surrounds will offer substantial containment of the odours produced in the flows that the penstocks control, whilst retaining access to the hand wheels or actuators. Made from high grade aluminium materials, AAI offer bespoke fabrications to suit each penstock and coupled with rubber seals and gaskets provide substantial odour control and full isolation from dissimilar metals. The penstock covers can be provided for penstocks installed to concrete structures, as well being provided and integrated within our aluminium walkways / platforms.
Although aluminium provides its own corrosion resistance via oxidisation, provided with an anodised finish, this enhances the strength of the natural corrosion protection to give a long term sustained resistance to the environment.
Full CAD drawings are provided in line with the design giving layouts, sections, elevations and details for client approval, prior to the manufacturing process.
AAI offer a full installation service using dedicated installation crews. Alternately, in conjunction with our Installation Manual and the assistance of one of our Qualified Engineers, we will guide you through the installation processes required to ensure a safe and correct fit of the product on site.